Macleaya cordata extract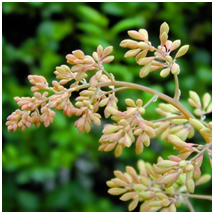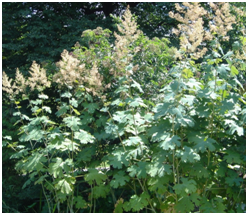 Macleaya cordata is a bloodroot which owns thousand year history of medicinal usage in China. 13 kinds of alkaloids and other compounds such as sanguinarine, toddaline, protopine, a-allocryptopine, bocconine, rhizoma coptidis alkali, berberine, samin alkali and protopine are in the root and aerial parts. Macleaya cordata extract contains sanguinaine and chelerythrine, which have fungicidal and insecticidal activity. Sanguinarine (pseudochelerythrine) is a potent inhibitor of NF-kappaB activation, IkappaBalpha phosphorylation, and degradation.
1. Specification
Alkaloids >60%,Sanguinarine>38%,Chelerythrine>18.5%
【Ingredient Name】 Sanguinarine

【Molecular formula】C20H14NO4

【Molecular weight】 332.33

【CAS Number 】 2447-54-3.

【Ingredient Name】 Chelerythrine

【Molecular formula】 C21H18NO4

【Molecular weight】 348.37192

【CAS Number 】 34316-15-9
2. Test condition (HPLC)
Column:Hyper ODS2 C18
Mobile phase: Acetonitrile: H2O =40:60
Column temperature:25℃
Flow rate: 1.0ml/min
Detection wavelength: 270nm
3. Application
a. Anti-microbial, to be used in toothpastes, mouthwash, chewing-gum additives and food additives.
b. Insecticidal and anti fungi, to be used as pesticides for crop protection.
c. Substitute of antibiotics in feed additives.
d. Treatment of skin diseases.