E 392 EXTRACTS OF ROSEMARY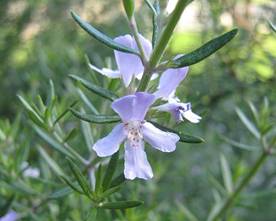 Rosemary Extracts according to European Regulation 231/2012
Synonyms
Extract of rosemary leaf (antioxidant)
Definition
Extracts of rosemary contain several components, which have been proven to exert antioxidative functions. These components belong mainly to the classes of phenolic acids, flavonoids, diterpenoids. Besides the antioxidant compounds, the extracts can also contain triterpenes and organic solvent extractable material specifically defined in the following specification.
Einecs 283-291-9
Chemical name Rosemary extract (Rosmarinus officinalis)
Description
Rosemary leaf extract antioxidant is prepared by extraction of the leaves of Rosmarinus officinalis using a food approved solvent system. Extracts may then be deodorised and decolourised. Extracts may be standardised.
Identification
Reference antioxidative compounds: phenolic diterpenes
Carnosic acid (C 20 H 28 O 4 ) and Carnosol (C 20 H 26 O 4 ) (which comprise not less than 90 % of the total phenolic diterpenes)
Reference key volatiles
Borneol, Bornyl Acetate, Camphor, 1,8-Cineol, Verbenone
Density > 0,25 g/ml
Solubility Insoluble in water
Purity
Loss of drying < 5 %
Arsenic Not more than 3 mg/kg
Lead Not more than 2 mg/kg



Extracting Method

Content of reference antioxidative compounds

(expressed as the total carnosic acid and carnosol)

Antioxidant/Volatiles Ratio*

Residual Solvents

1

Extracts of rosemary produced from dried rosemary leaves by acetone extraction

≥ 10 % w/w

≥15

Acetone: ≤500 mg/kg

2

Extracts of rosemary prepared by extraction of dried rosemary leaves by means of supercritical carbon dioxide

≥13 % w/w

≥15

Ethanol: ≤ 2%

3

Extracts of rosemary prepared from a deodorised ethanolic extract of rosemary

≥ 5 % w/w

≥15

Ethanol: ≤500 mg/kg

4

Extracts of rosemary decolourised and deodorised, obtained by a two-step extraction using hexane and ethanol

≥5 % w/w

≥15

Hexane: ≤25 mg/kg

Ethanol: ≤500 mg/kg
(* as a percentage of total volatiles in the extract, measured by Gas Chromatography – Mass Spectrometry Detection, 'GC-MSD')