[English name]: Grape Seed Extract
[Botanical]: Vitis vinifera L.
[Product properties]: Reddish-brown powder, partly soluble in water
[Specification]: Proanthocyanidins 95%, Polyphenols 60%-95%
[Test method]:UV
Oligomeric proanthocyanidins n=0-3
[Molecular formula]:C15nH14n-2(n+1)O6n n=0-3
[Molecular weight]:290.27n-2(n+1) n=0-3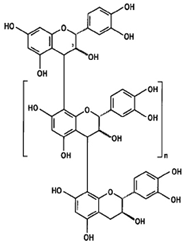 [Application]:
It's one of the most powerful antioxidants that fights free radicals.Grape seed extract is 20 times more potent than vitamin C and 50 times stronger than vitamin E,is one of the few antioxidants that can penetrate the blood brain barrier to help protect the brain and nerve tissue.
It also helps promote brain, skin and eye health
Grape seed extract can be used as an anti-aging supplement, because it protects from tissue deterioration, macular degeneration and cataracts, and may help prevent memory loss.
It can stabilize and protect collagen and elastin in the skin, which helps prevent acne, psoriasis, age spots, and eczema.
It can improve mental alertness and prevent senility.
Improving cardiovascular health, supporting healthy vessel dilation and blood flow throughout your body, preventing the formation of plaque in the arteries
It's an antibacterial, anti-viral, and anti-inflammatory and anticarcinogenic.
Grape seed extract is also a natural antihistamine, so it can be used to reduce symptoms like hives, runny nose, and itchy eyes associated with allergens like pollen and dust
[Recommended dosage]:100-300mg/day