[English name]: Rosemary extract
[Botanical Origin]: Rosmarinus officinalis
[Carnosic acid]

[Specification]:20-90% HPLC
[Solubility]: Oil Soluble, Insoluble in water
[Appearance]: Yellow-green to yellow powder or Brown liquid
[Molecular Formula]: C20H28O4
[Molecular weight]:332.4372
[CAS.NO]: 3650-09-7
[Application]
1. Antioxidant, its antioxidant ability is far higher than VC, VE and Teapolyphenols, and 2 to 4 time stronger than BHA and BHT. It is stable andendures high temperature of 190-240C.
2. Prevents senescence, eliminates free radicals.
3. Antisepsis, antibioticand anti-inflammatory.
4. Skincare - skinrestoring and moisturizing, eliminates freckles.
5. Reducesserum totalcholesterol and fatty tissue: not only effectively decreases serumcholesterollevels, but also reduces the cholesterol content in differenttissues such asliver, heart and fatty tissue
[Mechanism of Antioxidant]
Carnosic acid is the starting element of a unique antioxidant mechanism called the "Carnosic Acid Cascade" (See below figure). The cascade is an exceptional series of chemical reactions that involve the transformation of carnosic acid into carnosol; carnosol into rosmanol; and rosmanol into galdosol. With each of these transformations, free radicals are quenched.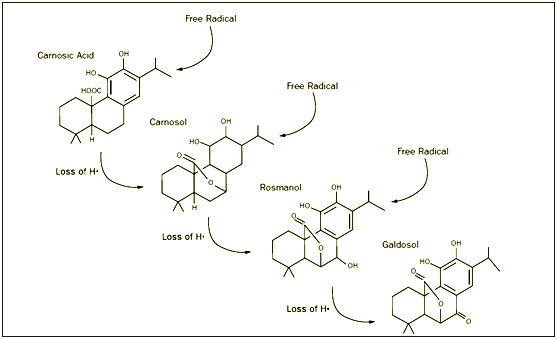 [Rosmarinic acid]
[Specification]:10-30% HPLC
[Solubility]: Water Soluble
[Product properties]: Yellow-green to brown powder
[Molecular Formula]: C18H16O8
[Molecular weight]:360.3164
[CAS.NO]: 20283-92-5
[Application]:
1. Antimicrobial, can inhibit bacteria like Enterococcus faecalis, Staphylococcus saprophyticus,Acinetobacter baumannii, and Proteus mirabilis etc. Also can reduce skin infections of the epidermis and oral mucosa.
2. A potential anxiolytic as it acts as a GABA transaminase inhibitor, reduces depression.
3. Antioxidant extends the shelf life of food.
[Minimum Inhibitory Concentrations(MIC)]
| | |
| --- | --- |
| Microorganism | Rosmarinic acid (ug/ml) |
| Helicobacter pylori | 12.5~50 |
| Staphylococcus aureus | 5 |
[Ursolic acid]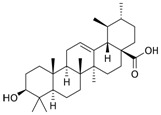 [Specification]:20-98% HPLC
[Appearance]: Pale yellow to white powder
[Molecular Formula]: C30H48O3
[Molecular weight]:456.706
[CAS.NO]: 77-52-1
[Melting Point] 284℃
[log P (octanol-water)]: 7.920
[Application]:
1. Ursolic acid presented a potent antihyperglycemic effect, increased insulin vesicle translocation, insulin secretion and augmented glycogen content. Also, Ursolic acid stimulates the glucose uptake through the involvement of the classical insulin signaling related to the GLUT4 translocation to the plasma membrane as well as the GLUT4 synthesis.
2. Endogenous Takeda G-protein-coupled receptor 5 (TGR5), G-protein-coupled bile acid receptor 1 (GPBAR1), regulates glucose metabolism. In animals, TGR5 activation by a chemical agonist may increase incretin secretion and reduce the blood sugar level.Ursolic acid can activate TGR5, enhancing GLP-1 secretion in vitro and in vivo.
3. Anticancer.
[Safety and Regulatory status]
- FDA Revision of 21 Code of Federal Regulation 21 CFR, Part 182-20
- FEMA GRAS 3001 and 2992
- CEE 88/388/ECC and 88/344/ECC list 1 no 406
- E 392 and 2002/46/EC