[Basic information]:
[English name]: Neohesperidin Dihydrochalcone
[Botanical Origin]: Fruit of Citrus Aurantium L.
[Specification]:98%
[Product properties]: White or off-white powder
[Test method]: HPLC
[Molecular Formula]:C28H36O15
[Molecular weight]:612.58
[CAS.NO]:20702-77-6
[Einecs]: 243-978-6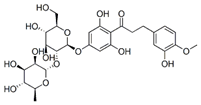 [Applications]
-Used in a wide range of food and beverages in combination with other sweeteners for its sweetening and flavoring properties: chewing gum, candy, carbonated beverages, non-carbonated beverages, yoghurt, ice cream, desserts, table-top sweeteners, toothpaste.
-Used in naturally bitter products. Pharmaceutical companies are fond of the product as a means of reducing the bitterness of pharmacological drugs in tablet form.
-Used for livestock feed as a means of reducing feeding time.
[Dosage recommended]
The optimum dose of NHDC needs to be determined in each particular case in which the presence of other sweeteners and their synergistic effect has to be taken into consideration. The maximum dose of NHDC is registered in EEC Directive 94/35/EEC
Dairy products & desserts: 10-35ppm (sweetener), 1-5ppm (flavor enhancer)
Spice flavor: 1-5ppm (flavor enhancer)
Chewing gum: 400ppm (sweetener), 1-5ppm (flavor enhancer)
Soft drink: 10-30ppm (sweetener), 1-5ppm (flavor enhancer)
Confectionery: 15-50ppm (sweetener), 1-5ppm (flavor enhancer)
Cosmetics: 1-5ppm (flavor enhancer)
Pharmaceutical industry: 10-30ppm (sweetener), 1-5ppm (flavor enhancer)
Animal feed industry: 1-5ppm (flavor enhancer)